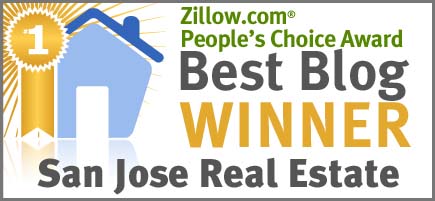 August 25, 2010 Update: As the banner says, we won! Though I don't have a speech ready, I'd at least like to thank all our blog readers and fans on Facebook for really turning out and pushing us ahead of the competition. The runner-up, CJ Brasiel, runs a great blog and I'm sure she'll be snapping at our blog heels come next year. Also, the iPad raffle winner will be announced at 9 a.m. Aug. 30, 2010, on the Rainmaker Properties company site. Thanks again to all our supporters, and if you have any comments or real estate questions, let us know.
August 17, 2010: That's right! Our blog has been nominated for the "People's Choice Best Real Estate Blog Award" in San Jose, by Zillow.com. We'd be delighted if you put in your vote for us – actually, you can vote once every 24 hours. But hurry, you only have until noon PST on Wednesday, August 25 to do so.
Oh yeah, if we win the award everyone who voted will be eligible for our Apple iPad (Wi-Fi, 16GB) raffle. Here is how to enter: (1) follow this Zillow link or click the badge above, and vote for 1SiliconValley; (2) if you are not already a fan of Rainmaker Properties on Facebook, we encourage you to become one by clicking the "like" button (not a requirement for contest entry); (3) for every time that you vote, write a comment on our Facebook wall, which will count as your raffle entry – limit one raffle entry per day; (4) lastly, if our blog wins the Zillow award, each one of your entries will be entered into the iPad raffle and the winner will be announced within two weeks of the award date.
So drop your vote, and thanks to all our readers!
A couple items of note: Contest and raffle subject to Rainmaker Properties Best Blog Contest Official Rules. (Opens pdf in new window or right-click to save.) Voting on Zillow requires flash. Sorry iPhone and iPad users.